If you haven't been over to Megan's blog, I Am More Than Just... you need to check it out! She has a monthly theme as asked anyone to share pictures that relate to her theme. You can send in a snapshot or a professional image, it doesn't matter just send in your picture and she will feature it on her blog! Fun right?!?!
And what's even better is for the entire month of August she has a daily prompt to help inspire your photos!
Guess what!?!?!
Yesterday I made her blog! Woot, woot!
http://iammorethanjust.blogspot.com/2011/08/day-4-2-fun-with-chalk.html
Here is my image for here prompt of: Fun With Chalk-
My daughter enjoying some time after playing in the pool. She wanted me to trace her and her brother, then she colored everyone in!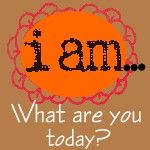 Hop on over to Megan's blog and check it out!!!